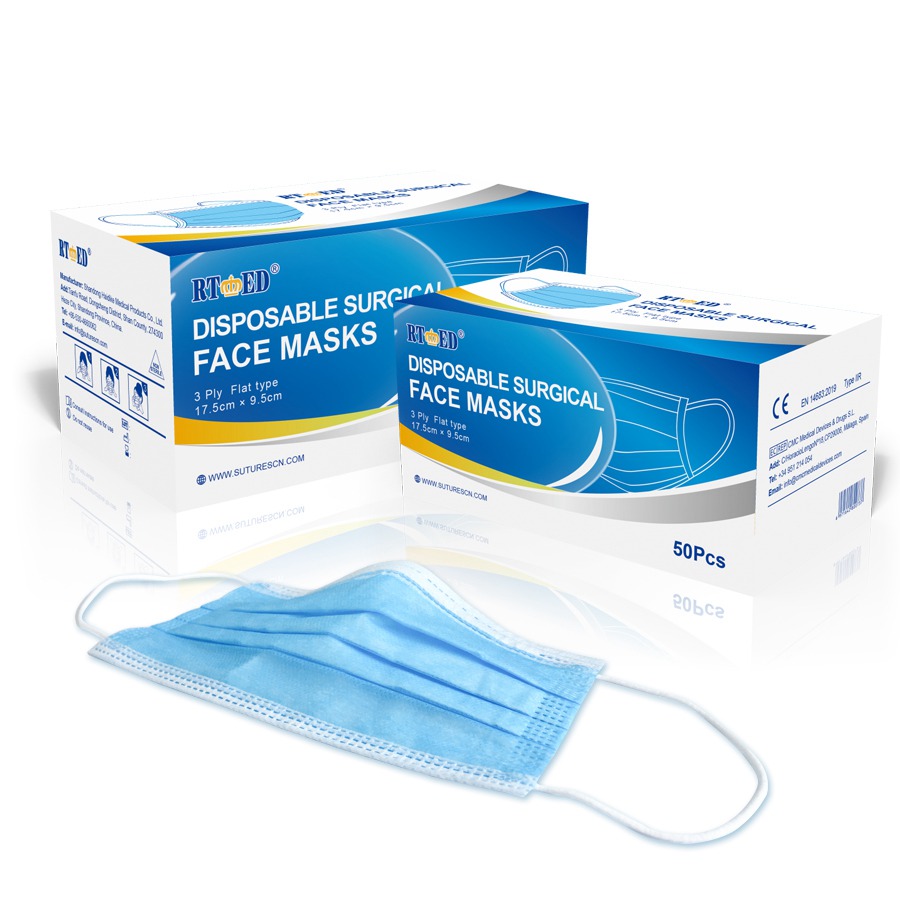 Product name: Disposable surgical face mask
Style: Flat, Earloop
Specifications: 17.5cm×9.5cm
Product description:
It consists of the mask body, nose clip and elastic cord. The mask body has three layers of structure: the inner and outer layers are non-woven fabrics, and the middle layer is melt-blown fabric.
Application of Surgical Mask:
It is worn by the clinical medical staff to cover the mouth, nose and mandible of the user, providing a physical barrier to prevent the direct penetration of pathogens, microorganisms, body fluids, particles, etc.
Package specification: 10 pieces / bag; 5 bags / box; 40 boxes / box
Instructions of Surgical Mask:
1. Open the packaging, place the mask with the nose clip facing outward and the white side inward, and gently pull the elastic cord to hang the mask on both ears;
2. Gently press the nose clip to fit it to the bridge of the nose, bend and adjust the nose clip, then press the nose clip, and pull the lower end of the mask to the jaw;
3. Keep the surgical mask close to the face and stretch the mask so that it completely covers the mouth, nose and jaw, and check the tightness of the edges to obtain the best protection effect.
4. When discarding, fold the mask from the inside to the outside to cover the fixing sheet, bind it with the elastic cord and throw it into the non-recyclable trash which can avoid polluting the environment.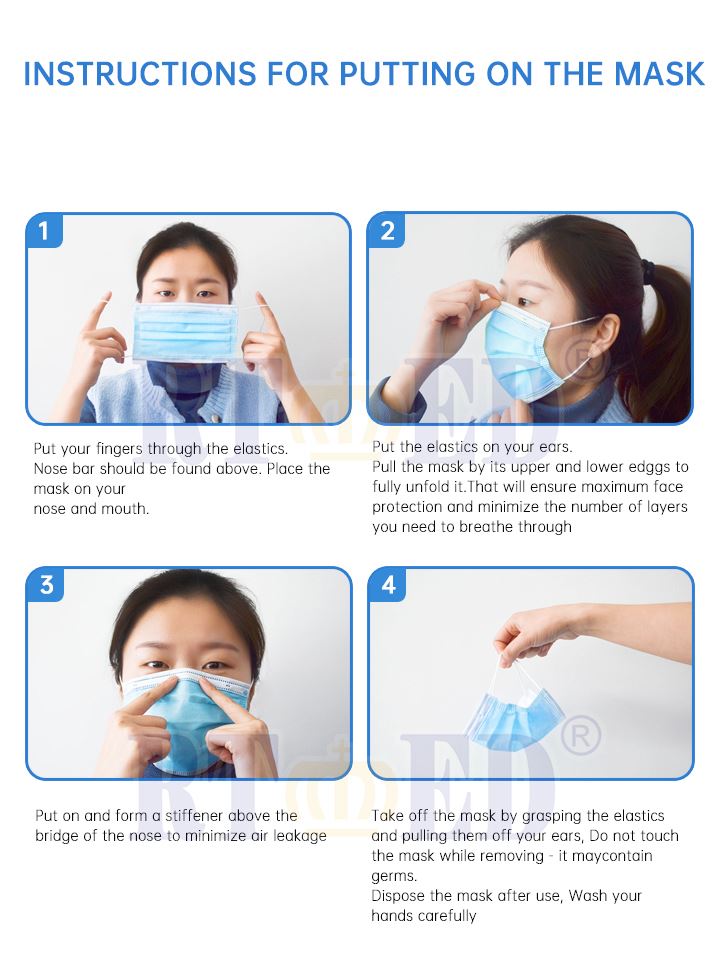 Product Performance of Surgical Mask:
1. The appearance of the mask shall be clean and in good shape, and the surface shall not be damaged or stained.
2. The breaking strength at the connection point between each mask belt and the mask body shall not be less than 10N.
3. The bacterial filtration efficiency of the mask shall not be less than 95%.
4. The filtering efficiency of mask for non oil particles shall not be less than 30%.
5. The pressure difference Δ p between the two sides of the mask for gas exchange shall not be greater than 49pa.
6. The product should be sterile.
7. After sterilization with ethylene oxide, the residual amount of ethylene oxide shall not exceed 10UG/g.
8. The maximum deviation of mask size shall not exceed ± 5%. Packing of bandage surgical masks.