Product name: Medical disposable protective clothing
Fabric: SMS non-woven
Color: white
Specification: One size fits all, one piece without shoe covers (HAIDIKE MEDICAL can provide matching medical isolation shoe cover)
Product features: Lightweight. Dustproof. Impervious. Splashproof. Breathe Freelely
Structure and Composition: Medical disposable protective clothing smainly made by sewing and bonding non-woven fabric.
Scope of Application: Provides barrier and protection for blood, body fluids, secretions. The potential infectious disease patients that the clinical medical staff contact in the work.
Our Medical disposable protective clothing are engineered with our unique comfort-fit design to give wearers what they want - a greater range of movement, improved mobility, a more trilored fit, and better overall comfort.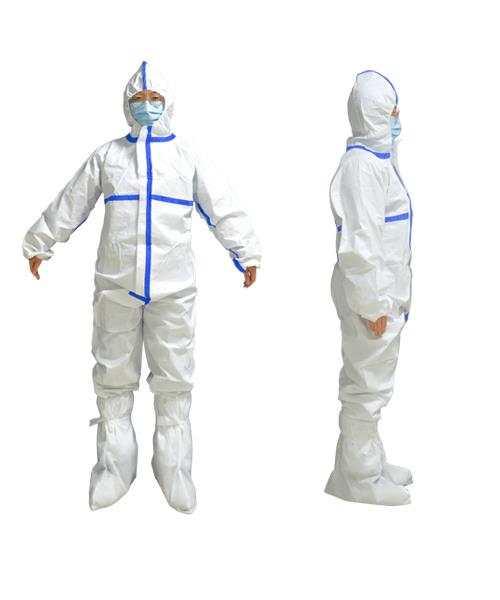 Protective Clothing Performance index:
1. Liquid barrier function A) The hydrostatic pressure of key parts should not be lower than 1. 67kpa (17cm h2o). B) The moisture permeability of the material should not be less than 2500g/(m2 · D).
2. The penetration resistance of protective clothing against synthetic blood should not be lower than 1.75kpa.
3. The water level on the outer side should not be less than the requirement of level 3.
4. Breaking strength: the breaking strength of the material in keyparts should not be less than 45n.
5. Elongation at break: the elongation at break of key materialsshould not be less than 15%.
6. Filtration efficiency: the filtration efficiency of non-oily particles in key parts of materials and joints should not be less than 70%.
7. Anti-static property: the charge should not be greater than0. 6mc/ piece.
8. Static decay performance: the static decay time does not exceed 0.5s.
9. Residual ethylene oxide not more than 10 mg/g.